♦Jammu is the largest city in the Jammu Division and it is the winter capital of state of Jammu and Kashmir.
♦It is situated on the banks of Tawi river.
♦Jammu is a city that is considered as a heaven on earth.
♦The Jammu city is divided into two parts old and new city.
Origin of Name Jammu
♦Raja Jambulochan founded this city and named it Jambupur, which later changed to Jammu.
VAISHNO DEVI
Vaishno Devi is also known as Mata Rani, Trikuta and Vaishnavi. It is a clear cut of the Hindu Mother Goddess Mahalakshmi. The words "maa" and "mata" are commonly used in India for "mother", and thus are often used in connection with Vaishno Devi. Vaishno Devi Mandir is a Hindu temple dedicated to the Hindu Goddess which is located at the Trikuta Mountains within the Indian state of Jammu and Kashmir.
SANASAR
Sanasar is the name given to the two small villages of Sana and Sar in Jammu province, Jammu and Kashmir state, India. , Sana and Sar are named after small local lakes. At an altitude of 2,050 metres it is the hub for adventure sport activities in the Jammu region. This area is famous for its scenic views of mountain ranges including the Brammah Massif.

A nearby mountain range is called the Shanta Ridge. The Shank Pal Temple is located at the highest point of the Shank Pal ridge, at an altitude of 2,897 metres, a few hours' walk from Sanasar. The 400-year-old temple is dedicated to Nag Shankh Pal. No mortar was used to join the stones of the temple.
SHIV KHORI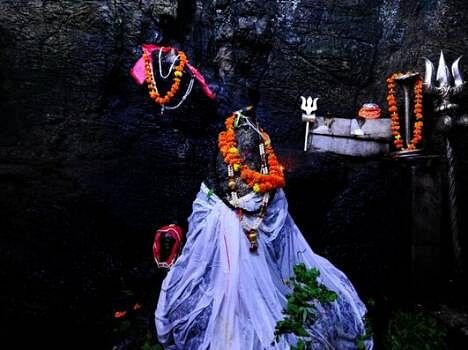 Shivkhori is a famous cave shrine of Hindus devoted to lord Shiva, situated in the Reasi district of Jammu and Kashmir state in India.
Khori means cave (Guffa) and Shiv Khori thus denotes Shiva's cave. This natural cave is about 200 metres long, one metre wide and two to three metres high and contains a self-made lingam, which according to the people is unending. The first entrance of the cave is so wide that 300 devotees can be accommodated at a time. Its cavern is spacious to accommodate large number of people. The inner chamber of the cave is smaller. The passage from outer to the inner chamber is low and small, at one spot it divides itself into two parts. One of these is believed to have led to Kashmir where Swami Amarnath cave is located. It is now closed as some sadhus who dared to go ahead never returned. To reach the sanctum sanctorum, one has to stoop low, crawl or adjust his body sideward. Inside a naturally created image of Lord Shiva, about 4 metres high, is visible. The cave abounds with a number of other natural objects having resemblance with Goddess Parvati, Ganesha and Nandigan. The cave roof is etched with snake formations, the water trickles through these on Shiva Lingam. Pigeons are also seen here like Swami Amar Nath cave which presents good omens for pilgrimages.
BHADERWAH
Bhadarwah is a town and a notified area committee in Doda district in the State of Jammu and Kashmir. Bhadarwah valley is located in the foothills of the Himalayan mountains, 80 km from Batote.The town is endowed with natural beauty which lends to its nickname, mini Kashmir. Apart from having picture-perfect scenic beauty due to beautiful forests, the town contains many small streams flowing through its various parts.

Bhaderwah is also known as Nagon ki bhoomi, which means "land of snakes." Bhaderwah Town (Nagar Bhaderwah) was known as "Hettary Nagar" and prior to that, there were two other towns namely "Donga Nagar" and "Udho Nagar." Both the Nagar was situated around villages Mondha which is about 3 km to the east of present Bhaderwah town. History tells us that at one point both the Nagars were flooded due to torrential floods from Himalayas, and the presence of the big boulders in abundance available in the present era reveal the story of disaster that occurred then. Later on, the people of Bhaderwah selected a place for their rehabilitation in Seeri (from word "seer" meaning a vast piece of land), now known as Seeri Bazar, a vast field belonging to a Zamindar (farmer) and reconstructed their dwellings around it.
PATNITOP
Patnitop or Patni Top is a hilltop tourist location in Udhampur district in Jammu and Kashmir state of India on National Highway 1A 112 km (70 mi) from Jammu on the way from Udhampur to Srinagar. Situated on a plateau in the Shiwalik belt of theHimalayas, Patnitop sits at an altitude of 2,024 m (6,640 ft). The river Chenab flows in close proximity to this location.
MANSAR LAKE
Mansar Lake is situated 62 km from Jammu, Mansar is a lake fringed by forest-covered hills, over a mile in length by half-a-mile in width.
Besides being a popular excursion destination in Jammu, it is also a holy site, sharing the legend and sanctity of Lake Mansarovar. On the Eastern Bank of the Lake there is a shrine to Sheshnag, a mythological snake with six heads. The shrine comprises a big boulder on which are placed a number of iron chains perhaps representing the small serpents waiting on the tutelary deity of the Sheshnag. Two ancient temples of Umapati Mahadev & Narsimha as also a temple of Durga are situated in the vicinity of the Mansar lake. People take a holy dip in the water of the lake on festive occasions.
Newlyweds consider it auspicious to perform three circum-ambulations (Parikarma) around the lake to seek the blessings of Sheshnag, the lord of serpents, whose shrine is located on its eastern bank.
Certain communities of Hindus perform the Mundan ceremony (First hair cut) of their male children here. There are also some ancient temples on the lake's shores, which are visited by devotees in large numbers. Mansar is also ideal for boating for which the Tourism Department provides adequate facilities.
With all religions belief and heritage behind the Mansar Lake is also picking up its fame among the tourists with all its flora & fauna. The lake has cemented path all around with required illumination, with projected view decks to enjoy flickering of seasonal birds, tortoise and fishes of different species. There is a wild life Sanctuary housing jungle life like Spotted Deer, Neelgai etc. besides other water birds such as Cranes, Ducks etc. One can also witness the traditional and typical distinct life style of Gujjar and Backarwals wearing ethnic costume, living in open Kullhas around on the hills of Mansar Lake.
AMARNATH
Amarnath cave is a Hindu shrine located in Jammu and Kashmir, India. The capital of Jammu and Kashmir and reached through Pahalgam town. The shrine forms an important part of Hinduism, and is considered to be one of the holiest shrines in Hinduism. The cave is surrounded by snowy mountains. The cave itself is covered with snow most of the year except for a short period of time in summer when it is open for pilgrims. Thousands of Hindu devotees make an annual pilgrimage to the Amarnath cave on challenging mountainous terrain to see an ice stalagmite formed inside the cave.
The temple is a popular yatra destination for Hindus. In 2011 it received about 634,000 persons, the highest recorded number for the site The number was 622,000 in 2012 and 350,000 in 2013. Pilgrims visit the holy site during the 45-day season around the festival of Shravani Mela in July–August, coinciding with the Hindu holy month of Shraavana.
The beginning of the annual pilgrimage, called Amarnath Yatra is marked by 'pratham pujan' to invoke the blessings of Shri Amarnathji.
The culture of Jammu is based on dance, music, festival and literature which influences the lifestyle of people. The culture of Jammu is quite varied and rich.
There is a special ritual dance named Kud which is performed by age groups of people in praise of Lok Devatas and this folk dance is usually performed only during the night times and goes on for the whole night.
The costume is usually a long loose gown which is buttoned near the neck and flows down falling to the ankles. Men can be always seen with a headgear or a turban and this is sign of respect according to the Jammu culture. They are known for their handicrafts. The Carpets and Shawls are famous across the world.
Special Food in Jammu :
√ Morel (Gushi) Palov,
√ Madra (lintel cooked in curd),
√ Oria(Patato/Pumpkin in mustard sauce),
√ Maani, Khameera,
√ Katha Meat(SourMutton),
√ Shasha(raw mango chatni),
√ Kasrod and Timru-di-Chatni,Shiri Pulav,
√ Mitha Bhat (Sweet Rice).
♦Kashmir is a very beautiful place. It is a geographical region in far north of the Indian subcontinent.
♦ Until the mid-19th century, the term Kashmir geographically denoted only the valley between the Great Himalayas and the Pir Panjal mountain range.
♦Today, it denotes a larger area that includes the Indian-administered territories of Jammu and Kashmir (which consists of Jammu, the Kashmir Valley, and Ladakh).
Origin of Name Kashmir
♦The name "Kashmir" means "desiccated land". In the Rajatarangini, history of Kashmir was written by Kalhana in the mid-12th century.
SRINAGAR
Srinagar is the largest city and it is also the capital of Jammu and Kashmir. It lies on the banks of the Jhelum River, a tributary of the Indus, and Dal and Anchar lakes. Srinagar is one of the most beautiful places which is famous for its gardens, waterfronts, and houseboats. It is also known for traditional Kashmiri handicrafts and dried fruits.
Best time to visit: June to October, and for snow December & January would be the best.
2. GULMARG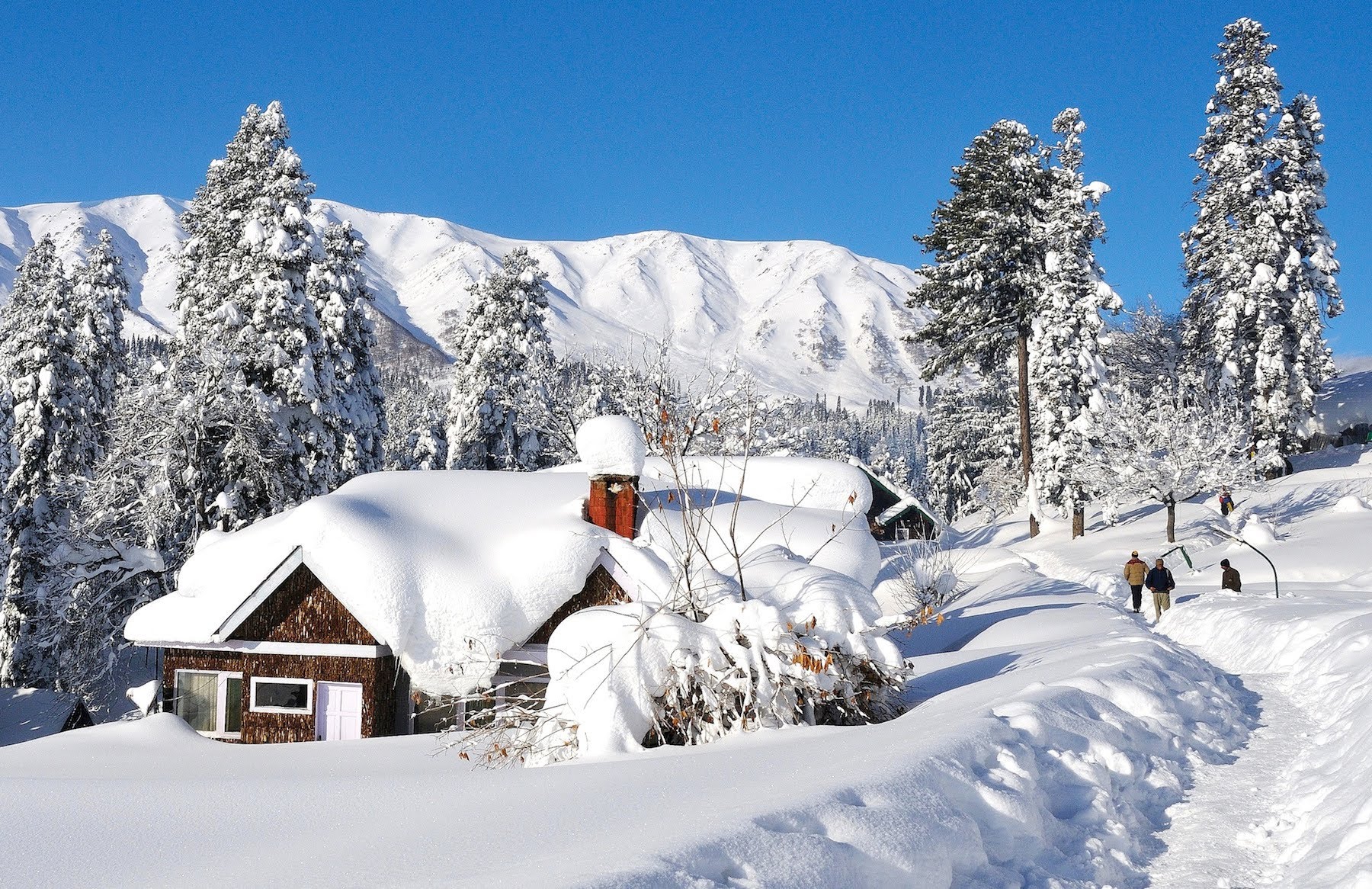 Gulmarg is a hill station, which is famously known as the "Meadow of Flowers", spread of vibrant flowers against snow-capped mountains as background. It is popular for skiing destinations. It is situated in the Pirpanjal range in the western Himalayas.
Best time to visit: June to October, and for snow December & January would be the best
Things to do in Gulmarg:
Learn Skiing: Skiing is one thing that you must try when you come to Gulmarg. Popularly known for its excellent gradients. Gulmarg is the best place to ski in India. For beginners, there are three baby slopes available with expert ski instructors (you can hire ski instructors for a day, a week and even for a month). For veteran skiers, the slopes of the Aparwath Peak are ideal, with the smooth and steep gradients making it a perfect place for powder skiing in India. Apart from skiing, you can try snowboarding and sledding as well.
Take a Ride on Gulmarg Gondola: In Gulmarg taking a Gondola ride is a must. Reckoned to be the world's second-highest cable car project, Gulmarg Gondola is a two-tiered ride. In the first phase, the visitors are taken to Kongdori, which is situated at a height of 2600m; and in the second phase, the visitors are taken to an elevation of 3747m at Aparwath Peak. The view from Gulmarg Gondola is truly commendable as on a clear sky day one can even witness the magnificent Nanga Parbat as well.
Try Your Hands At Golfing: If you are visiting Gulmarg in the summertime, try your hands at golfing. Gulmarg is reckoned to have the world's second-highest golf course, which is situated at an altitude of 2650m. It is an 18-hole golf course and is spread over an area of 7505yards. The golf course also has a 3-hole learning academy, where the novice can learn some tricks and tips. It is a lovely place as it is adorned with different varieties of flowers and is surrounded by lofty mountains. Amidst such picturesque surroundings, playing golf is indeed a perfect choice.
Seek The Blessings of Baba Reshi Shrine: The shrine of Baba Reshi is 500 years old and holds an important position as a religious place in Gulmarg. Dedicated to Baba Payamuddin (a Muslim scholar and the disciple of Baba Zainuddin Reshi), Baba Reshi shrine is a must-visit for those who are childless (As it is believed that childless spouses pray here and their wishes get fulfilled).  Not only this shrine is important as a religious place but it has a very appealing architecture. The influence of Mughal and Persian architecture can be seen and the beautifully-crafted wooden artworks inside the shrine are the main attractions for the history buffs. The massive hall that can accommodate 1000 people at a time is also no less an attraction here.
 Find Peace At St. Mary's Church: A Victorian style Church, St.Mary's is a small place of worship in Gulmarg. The church is famed for its stained glass artwork and utter peace. The church is only accessible by trekking, so one also has the option of experiencing a little adventure on the way. 
Spend A Day At Alpather Lake: Alpather Lake is one exciting place for a day trip from Gulmarg. Situated at the feet of the twin Aparwath Peaks, the lake is around 13kms from Gulmarg. Aparwath Lake is one of the most scenic places you could be and it remains frozen till mid-May and even in June, one can see several ice chunks floating on the water. It is a great idea for a day excursion as one can then either have a good trekking experience or can enjoy a thrilling pony ride.
 Explore Gulmarg Biosphere Reserve:  Gulmarg Biosphere Reserve is a great place to witness the rich flora and fauna of the region. Situated around 48kms from Srinagar, Gulmarg Biosphere Reserve is placed at an altitude of 2400m above sea level. The reserve is a safe shelter for many wildlife animals like Himalayan Musk Deer, Red Fox, Brown and Black Bear. It wouldn't be incorrect if we call Gulmarg Biosphere Reserve a bird watchers' paradise as it is the second home for many migratory birds. It is altogether a different experience to be surrounded by rich Himalayan wildlife and there can be no better place to experience this thrill than in Gulmarg Biosphere Reserve.
The Ningli Nallah: It is a popular picnic spot, which is situated about 8kms from Gulmarg. Ningli Nallah is a stream that has its origin in Allaptri Naag. This stream runs through picturesque villages like Wagoora and Kalantara. Trekking is the best way to reach Ningli Nallah but it is recommended that you start early in the morning. It is ideal to camp beside the stream (you should carry your camping gear from Gulmarg itself); however, you can explore the area in the day time and then can easily return to Gulmarg.
Visit Maharani Temple/Rani Temple: Dedicated to Lord Shiva, Maharani Temple is perched atop a hillock in Gulmarg. It is reckoned to have been built by Queen Mohini Bai Sisodia, the wife of the erstwhile ruler of Kashmir, Maharaja Hari Singh and thus is named as Maharani Temple or Rani Temple. This red-rooftop temple along with being a sacred place is also a popular tourist attraction in Gulmarg and has been featured in Bollywood flick named Aap Ki Kasam.
Try Wazwan and Kahwa:  Since you are in one of the best places in Kashmir, you must try two important features of Kashmiri cuisine namely the Wazwan and the Kahwa. Wazwan is a special platter in which 32 dishes are served. Gushtaba and Rogan Josh are the specialties of this already delectable platter. Kahwa is the traditional tea in Kashmir and it goes with everything you eat as it helps digestion of the food. The tea is prepared by boiling green tea leaves with saffron strands, cinnamon bark, cardamom pods and occasionally Kashmiri roses to add special aroma. The tea is then served with sugar or honey and crushed nuts, usually almonds or walnuts.
Explore Ferozpur Nallah: Flowing through Chinamarg and Nurpur Pass, Ferozepur Nallah is situated 5kms from Gulmarg. Camping beside this stream is one of the best things to do in Gulmarg. Also, trout fishing is permissible here, which makes it an ideal picnic spot. Enjoy a good outing with friends and family here and if you have visited here especially in winter, then you can also enjoy skiing on the mountain slopes near it.
Khilanmarg: Khilanmarg is the most popular sightseeing place near Gulmarg. It is situated at a short distance of 4kms from Gulmarg and is a beautiful little valley. Tranquil and serene, Khilanmarg is adorned by varieties of flowers in the summertime. One can easily trek to Khilanmarg and enjoy the views of Nanga Parbat and the twin peaks Nun and Kun.
The culture of Kashmir is based on dance, music, festival and literature which influences the lifestyle of people. The culture of Kashmir is quite varied and rich.
There is a special ritual dance named Kud which is performed by age groups of people in praise of Lok Devatas and this folk dance is usually performed only during the night times and goes on for the whole night.
The costume is usually a long loose gown which is buttoned near the neck and flows down falling to the ankles. Men can be always seen with a headgear or a turban and this is sign of respect according to the Kashmir culture. They are known for their handicrafts. The Carpets and Shawls are famous across the world.
  ℘ Rogan Josh
 ℘ Yakhni or Yoghurt Lamb Curry
℘  Dum Olav
℘  Matschgand
℘  Kashmiri Muji Gaad
℘  Aab Gosh
℘  Goshtaba
℘  Modur Pulav